The "NEW" Sproul refractor.
These pages have images taken at the Sproul observatory at Swarthmore College with a recently installed Apogee AP6 CCD camera. The telescope is a 24" f18 refractor.

Pages marked with

have new images since the previous update.

---
Pictures of the telescope with the new camera and filter wheel.

First night images, M65, M81, M82, M109.
Supernovae:
Binary stars.
Enhanced images: M109, M82, The Moon, NGC3190, NGC3690/IC694.
M82, NGC 6543, M3, M5, M67 in R, V, B filters.
M57


Some specifications for the new setup:
R, V, and B filters
CCD size: 24.6 x 24.6 mm
Pixel size: 24 um
With a focal length of 10.9728 meters:
Field size: 7.7 x 7.7 arcminutes
Sampling: 0.45 arcseconds/pixel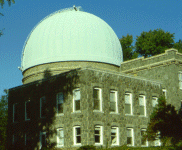 The Sproul Observatory

---
Paper about the new camera presented at the Central Pennsylvania Consortium astronomer's meeting August 17, 1998.
---

Marty Schultz schultz@pop1.science.widener.edu. My homepage here.
Last update: September 23, 1998