Micrographs with the Nikon 990

Nikon 990 with a Leitz periplan GF 10X ocular screwed onto the lens.
Microscope used was a Leica DME.
Some of the camera settings used:
Metering: Matrix
Lens: X3
Image Adjust: + more contrast
Sharpening: Normal
Focus Confirmation: ON
Size: XGA
Quality: Fine



Click on an image to view full size.
Algae smear from a fish tank: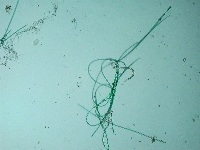 Quicktime Movie (10MB)